Thank you to Elena @
With Extra Pulp
for awarding us with the Zombie Chicken Award. [Ha, what a ridiculous name! I would like to know the story behind this one!] 
"The blogger who receives this award believes in the Tao of the zombie chicken – excellence, grace and persistence in all situations, even in the midst of a zombie apocalypse. These amazing bloggers regularly produce content so remarkable that their readers would brave a raving pack of zombie chickens just to be able to read their inspiring words. As a recipient of this world-renowned award, you now have the task of passing it on to at least 5 other worthy bloggers. Do not risk the wrath of the zombie chickens by choosing unwisely or not choosing at all."
I'm passing on to: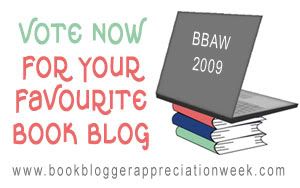 I was also informed that we here at the Five Borough Book Review have been nominated for the
Most Collaborative Blog
in this year's BBAW Awards! Thank you for the nomination, readers! I am excited for all the action and excitement that this year's BBAW promises, seeing as how our blog is too new to have participated last year.